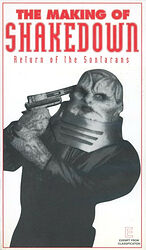 Note: Behind-the-scenes look at unofficial spin-off drama Shakedown: Return of the Sontarans. Also includes a 25-minute feature of highlights from the DreamWatch 94 sci-fi convention, held in London in October 1994.
A subsequent reissue of the Shakedown video includes the making-of documentary as an "extra". However, the DreamWatch footage has never been re-released anywhere else.
Cover blurb:
Climb aboard the HMS Belfast and enter Pinewood Film Studios for a fascinating and humorous insight into the making of SHAKEDOWN — Return of the Sontarans. Includes all new interviews with the stars — Jan Chappell, Brian Croucher, Carole Ann Ford, Sophie Aldred, Rory O'Donnell, Toby Aspin and Tom Finnis — writer Terrance Dicks, director Kevin Davies, composer Mark Ayres and much more!

Plus...
DREAMWATCH 94 HIGHLIGHTS
DREAMWATCH '94 — the highly acclaimed telefantasy convention held in Earl's Court, London, at the end of October 1994 — boasted over forty guests during its feature-packed weekend. Relive the event via the memories and anecdotes of many of those present, including (from DOCTOR WHO) Elisabeth Sladen, Philip Hinchcliffe, David Maloney, Michael Wisher... (from BLAKE'S 7) Stephen Grief [sic], Brian Croucher, James Follett... (from THE TOMORROW PEOPLE) Nicholas Young, Mike Holloway, Lee Pressman... (from SURVIVORS) John Abineri, Julie Neubert, Martin Worth, Roger Parkes, the stars from SHAKEDOWN and many more!