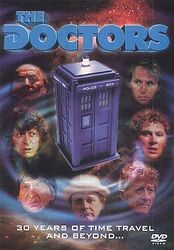 Edition:
UK (1st DVD)
Released:
May 2002

Publisher:
Waterfall
Format:
1 x DVD
Owned:
Buy:

| | | |
| --- | --- | --- |
| | | (Not currently available) |
Note: Unauthorised edition produced without the consent of writer/producer Bill Baggs. To add insult to injury his name is mis-spelt as "Bill Braggs" on the packaging!
Cover blurb:
'The Doctors, 30 Years of Time Travel and Beyond' offers a comprehensive and candid look at a stable of programmes that continues to grow in popularity with each new generation, even though the series came to an end in 1989, proving that the Doctor and the police box will certainly never be forgotten.
It is more more than 35 years since a most unusual form of time travel machine in the guise of an ordinary police box first hesitantly materialised on our black and white television screens. Millions of viewers have been enthralled ever since watching the exploits and adventures of the Doctor and the colourful multi-various [sic] crews of the time machine.
This is the story of Britain's favourite home grown science fiction programme told by the different actors who have played the role of the Doctor. Included are specially filmed interviews with Sylvester McCoy, Peter Davison, Colin Baker and the late Jon Pertwee, all of whom share their memories of bringing the scripts and famous terrifying adversaries such as the Daleks, Cybermen and the Ice Warrior [sic] to life that ensured a generation would spend at least half an hour a week watching television from behind a cushion or settee.
We show rare behind the scenes home movie footage taken from adventures 'The Smugglers', 'The Abominable Snowmen', 'The Demons' [sic] and the unfinished Tom Baker story 'Shada'. There is a unique collection of unpublished photographs spanning all of the 7 Doctors. This special programme also includes an insight into the methods used in the design of the Ice Warrior and Cybermen models, all featured in the last series.
In addition to the many and varied stars who have played the Doctor, the programme also includes interviews with senior production personnel such as director David Maloney, producer Philip Hinchcliffe and former BBC Head of Serials and Drama Shaun Sutton. There are also a host of actors and actresses who have played the Doctor's various assistants down the years, each giving us a different angle into what made the series so special.