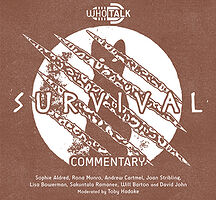 Note: Alternative audio commentary to accompany the Survival DVD.
Cover blurb:
As the final story of Season 26, Survival brought the show's original run to an explosive end. With its urban setting and adult themes, in many ways the serial set the template for how the series would return under Russell T.Davies.
In celebration of this classic serial, members of the cast and crew reunite to share their memories and experience of working on the show in two complete new commentary tracks for all three episodes.
Moderated by actor, comedian and cult television enthusiast Toby Hadoke, this release features Sophie Aldred (Ace), Lisa Bowerman (Karra), David John (Derek), Will Barton (Midge), Sakuntala Ramanee (Shreela), Rona Munro (Writer), Joan Stribling (Make-Up) and Andrew Cartmel (Script Editor).