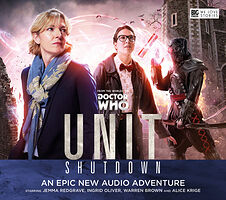 Cover blurb:
POWER CELL
On the trail of missing alien technology, Kate Stewart encounters the ambitious Felicity Lyme. Who are Cerberus — and what are they doing in the London Docklands?
DEATH IN GENEVA
With Tengobushi assassins on their tail, Kate and Osgood retreat to UNIT Command in Geneva. High in the mountains, Captain Josh Carter comes face to face with the enemy...
THE BATTLE OF THE TOWER
As London sleeps, an alien horde rises from the shadows. The Tower has been infiltrated — and UNIT must hold the line. At any cost. Lock and load...
ICE STATION ALPHA
Caught between human greed and an unstoppable alien power, Kate Stewart leads her forces on one last mission to the Antarctic. It's UNIT against the world...