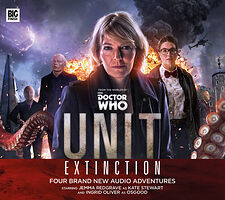 Cover blurb:
UNIT — Earth's first line of defence. And UK Chief Kate Stewart ensures that science leads the military response to alien threats.
When Scientific Advisor Osgood tracks a meteorite, it appears to herald a new invasion. Meanwhile, tech billionaire Simon Devlin prepares to go global with a revolutionary new product — but he has other deadly secrets.
As danger spreads, UNIT troubleshooter Sam Bishop is despatched to Mongolia in a race against the enemy. But is it already too late?
The Nestene Consciousness and its army of plastic Autons is rising and only UNIT stands between the human race and total extinction.
INCLUDES SPECIAL BEHIND-THE-SCENES DOCUMENTARY!