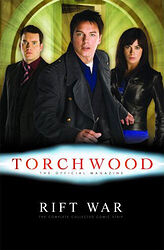 Note: The first Torchwood graphic novel — there were plans to publish a follow-up, The Selkie, in 2010, but this was cancelled. Torchwood fans had to wait until 2017's World Without End before another would appear.
Cover blurb:
OUR WORLD AT WAR
When the Rift opens to unleash the Harrowkind, an aggressive race of creatures hell-bent on the destruction of humanity, only Torchwood — the secret organisation trained to handle extra-dimensional threats — can stop them!
But with Cardiff under attack from dinosaurs, giant reality-warping babies and the time-lost armies — and the Hub torn out of reality itself — can Captain Jack Harkness, the Torchwood team and their new ally, the mysterious Vox, turn the tide of a war they can only begin to comprehend?
Featuring the combined creative talents of Paul Grist (Jack Staff), Ian Edginton and D'Israeli (Scarlet Traces), Simon Furman (Transformers) and Brian Williamson (Doctor Who Annual), TORCHWOOD: RIFT WAR is a tour de force of science-fiction storytelling!