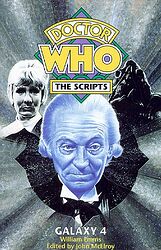 Cover blurb:
The weaker sex...?
A female dominated race of warriors.
A peaceful race of aliens.
A doomed world.
The Doctor and his companions, Vicki and Steven, land on a planet that is about to explode. They are soon caught up in a desperate race against time to thwart the evil plans of the Drahvins to save themselves at the expense of the peace loving Rills.
Read for the first time the complete script of this classic Doctor Who story, together with never before published background and technical information.