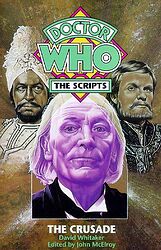 Note: The last of 10 script books published by Titan (stretching back to The Tribe of Gum in 1988). Further script books of The Abominable Snowmen and The Pirate Planet were planned for 1993-1994 but cancelled when the script book range itself was shelved by Titan.
Cover blurb:
Peril in Palestine...
The TARDIS lands in twelfth century Palestine, near the city of Jaffa. Barbara is soon kidnapped by the mighty Saracen leader, Saladin, and Ian sets off to rescue her.
Meanwhile, the Doctor and Vicki are taken to the court of King Richard the Lionheart, who is leading the crusade against the Saracens.
Read for the first time the complete script of one of the great 'lost' Doctor Who stories, together with background and technical information.