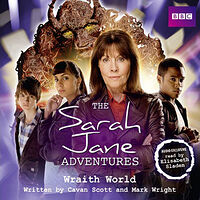 Note: Was later re-released as part of The Sarah Jane Adventures Collection box set.
Cover blurb:
A bizarre journal leads to terror for Sarah Jane and friends, in this exclusive audio story read by Elisabeth Sladen
Rani is delighted to hear that her favourite author, Gregory P. Wilkinson, is doing a signing at a local bookshop. When he agrees to be interviewed for the school newspaper, she is even more thrilled. And when the old man presents her with his journal, full of notes and sketches from his 'Wraith World' books, her happiness is complete.
But all too soon her elation turns to horror, as the worlds of fiction and reality collide. Can Sarah Jane save Rani, Clyde and Luke from a creature beyond their wildest nightmares?
Elisabeth Sladen, who stars as Sarah Jane in the CBBC TV series, reads this exclusive audio story by Cavan Scott and Mark Wright.