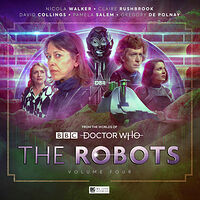 Cover blurb:
CLOSED LOOP BY GUY ADAMS
Toos needs Poul's help on a mission so sensitive she won't even tell him where they're going. Needing to escape from his demons, Poul agrees. But he finds more ghosts waiting for him at their destination.
Landing in the desert, Poul can't help but be reminded of his time on Storm Mine 4... and soon he's hearing familiar voices. As he and Toos start to dig, they're about to discover that some secrets can't stay buried...
OFF GRID BY SARAH GROCHALA
When a Supervoc is found on the streets claiming responsibility for a recent explosion, it's clear to Liv and Tula that the Sons of Kaldor are attempting to frame robots for their murderous attacks. But where are they? And how to stop them?
As they try to smuggle the Supervoc out of the city, it's clear that finding the enemy will be the least of their worries as tonight... the lights are going out.
THE JANUS DECEPTION BY ROBERT WHITELOCK
Tula is under investigation by the company — for fraud, industrial espionage and conspiracy. She knows she's innocent... so who is impersonating her? And why?
Liv, meanwhile, is nearing the finishing line of her trail, a meeting with the survivors of Storm Mine 4, in person. But will that really be the end... or a new beginning?