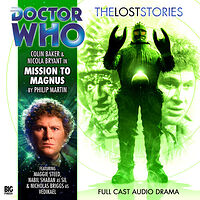 Description: Audio adaptation of the never-produced TV story which was intended to be part of the 23rd series of Doctor Who before the programme was infamously "rested" for 18 months by the BBC in 1985. This story was previously novelised in 1990.
Cover blurb:
The Lost Stories: Adventures that were originally written for the Doctor Who television series but never made. Now available to hear for the first time...
The Doctor and Peri face enemies at every turn on the planet Magnus. There's the Time Lord bully Anzor, who made the Doctor's life hell during his time at the Academy. There's also Rana Zandusia, the matriarchal ruler of the planet, who seeks to prise the secret of time travel from these alien visitors.
Also on Magnus is the slug-like Sil, still bitter from his defeat on the planet Varos and seeking to make his fortune from the most potentially destructive ends. And, deep within the planet, there is something else. Another old enemy of the Doctor's. And the future is looking decidedly colder...