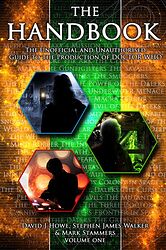 Note: Omnibus edition of the previously-published First, Second and Third Doctor Handbooks. Published simultaneously with Volume Two, containing the Handbooks for the remaining classic series Doctors.
Cover blurb:
Everything you ever wanted to know about the cult BBC Television series Doctor Who (1963-1996).
On their first publication, the Doctor Who Handbooks were hailed as the best look behind the scenes of the BBC's cult science fiction show Doctor Who. Now collected in two revised and updated editions, these books are the definitive guide to the background and production of a television classic. Alongside The Television Companion, which The Handbook is designed to complement, they provide just about everything you need to know about the show, its stars, its background, its stories and its monsters.
This volume focuses on the first three Doctors. There is an unparalleled production diary for the first Doctor, used as reference for the 2013 docu-drama An Adventure in Space and Time, script-to-screen breakdowns of one story from each era ('The Ark', 'The Mind Robber' and 'Day of the Daleks'), and articles examining every aspect of the show, from the Doctor, to its mythology, to how it was transmitted and marketed.
This is the essential companion for every trip you will ever take into the TV universe of classic Doctor Who.