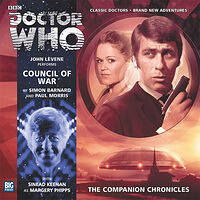 Cover blurb:
At the Doctor's request, Sergeant Benton is investigating ghosts and missing people in Kettering, while undercover as a local councillor.
And that's how he comes to meet Margery Phipps.
An alien incursion in the town hall leads them on a journey to a terrible future — where Margery discovers how she changed a world, and the life of a whole civilisation hangs in the balance...