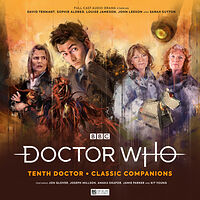 Description: Audio box set featuring the Tenth Doctor re-teaming up with classic series companions K9, Leela, Ace and Nyssa after their original travels with the Doctor.
Cover blurb:
When the TARDIS bumps into a piece of space debris, the Tenth Doctor is reunited with a Time Lord's best friend.
K9 has a mission — tracking deadly fallout and assisting some faces from the Doctor's past...
SPLINTERS BY JOHN DORNEY
THE STUNTMAN BY LIZZIE HOPLEY
QUANTUM OF AXOS BY ROY GILL