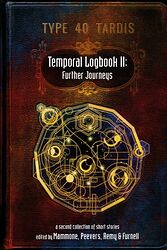 Description: Charity short-story anthology.
Cover blurb:
Unofficial and Unauthorized
"I promised you something spectacular," the Doctor said, "and here we are."
From Canterbury Cathedral to a space station orbiting a Dyson sphere, the Doctor has seen countless worlds throughout his many lives.
Temporal Logbook II: Further Journeys tells some of those stories — fifteen gripping tales showing the universe through the eyes of thirteen incarnations including the War Doctor.
Told by some of the most exciting voices in Doctor Who fandom, contributors include: Hamish Crawford, Nic Ford, Russell McGee, Richard Peevers, Tony Jones, Rob Nisbet, R.P. Fox, Kate Coleman, Kevin Mason, Frank Danes, David Smith and Violet Addison, J.E. Remy, Fionna MacDonald and Nick Mellish.
All proceeds from this publication will be donated in support of the Mood Disorders Association of British Columbia (MDABC), which is a non-profit organization that provides treatment, support, education, and hope of recovery for people living with a mood disorder.
"A second volume of exciting stories for all ages."