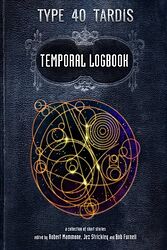 Description: Charity short story anthology.
Cover blurb:
Twelve Doctors.
Twelve different windows onto the universe. And the Doctor's life is the history of the universe.
The TEMPORAL LOGBOOK is the telling of that history. From the myths of Ancient Greece to the depths of unknown space, from the life of Lewis Carroll to the horrors of the Black Death. The TEMPORAL LOGBOOK recounts some of the Doctor's most enthralling journeys during his first twelve incarnations, as told by a selection of Doctor Who's greatest writers.
The TEMPORAL LOGBOOK features stories from Michael Baxter, J.E Remy, Benjamin Pocock, Craig Charlesworth, Hannah Parry, Ian Larkin, Sarah Parry, Nick Mellish, Hamish Crawford, Paul Silvester, Michael Itig and Meg MacDonald.
All proceeds from this publication will be donated in support of the Positive Living Society of British Columbia, which is dedicated to empowering persons living with HIV/AIDS through mutual support and collective action.