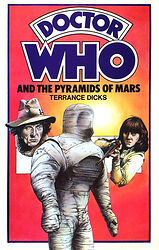 Edition:
UK (1st hardback)
Released:
December 1976

Publisher:
Allan Wingate
ISBN:
0-85523-141-6
Format:
hardback
Owned:
Buy:

| | | |
| --- | --- | --- |
| | | (Not currently available) |

| | | |
| --- | --- | --- |
| | | (Not currently available) |

| | | |
| --- | --- | --- |
| | | (Unable to fetch price) |
Cover blurb:
No blurb on back cover. Inside cover flaps read as follows:
For many thousands of years Sutekh had waited... trapped in the heart of an Egyptian Pyramid. Now at last the time had come — the moment of release, when all the force of his pent-up evil and malice would be unleashed upon the world...
The TARDIS lands on the site of UNIT headquarters in the year 1911, and the Doctor and Sarah emerge to fight a terrifying and deadly battle... against Egyptian Mummies, half-possessed humans — and the overwhelming evil power of SUTEKH!
Terrance Dicks was born in 1935 and educated at East Ham Grammar School and Downing College, Cambridge.
After a spell in advertising the author became a full-time scriptwriter, first for radio, then television where for five years he was Script Editor of the 'Doctor Who' series. He is now a free-lance author and writes many of the highly successful 'Doctor Who' books, and is currently launching a new adventure series for boys and girls about the Canadian Mounted Police Force.
Terrance Dicks lives in Hampstead, London, is married and has three children. He is an obsessive reader, likes 'messing about in boats' and is cultivating an interest in mysticism and meditation.