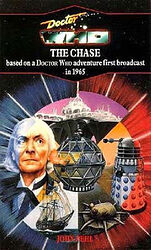 Edition:
UK (2nd paperback)
Released:
July 1991

Publisher:
Target
ISBN:
0-426-20336-4
Format:
paperback
Owned:
Buy:

| | | |
| --- | --- | --- |
| | | (Unable to fetch price) |
Note: Same ISBN as previous edition. The note "available as a BBC video" was a little premature as The Chase was finally released on video in 1993, two years after this edition was published.
Cover blurb:
'Those who control the TARDIS have interfered with too many of our plans. They are to be destroyed. If necessary, the assassination group will pursue them through all eternity. Exterminate them!!
The Doctor, Barbara and Ian had faced — and narrowly defeated — the Daleks twice before. They had known that there was always the possibility that the Daleks would win. But the reaches of time and space had always seemed so safe — there was always the chance that if they were being overwhelmed, they could flee.
But now the Daleks can track them through all of time and space. They try to shake off their attackers by making a series of random landings, but this is a chase to the death...
Doctor Who - The Chase, written by Terry Nation, the creator of the Daleks, was first broadcast in 1965, with William Hartnell playing the role of the Doctor. This adaptation is by John Peel, who is also the author of The Gallifrey Chronicles, the definitive history of the Doctor's home planet and its people.
Doctor Who - The Chase is available as a BBC video.