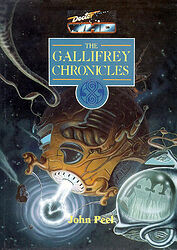 By:
John Peel
Rating:
7.8 (29 votes) Vote here
Review:
Great Book. A lot of answers! Read more (2 in total)
Released:
October 1991

Publisher:
Virgin
ISBN:
1-85227-329-1
Format:
hardback
Owned:
Buy:
Note: Not to be confused with the 8th Doctor novel of the same name.
Cover blurb:
The planet Gallifrey: cradle of the most ancient civilization in our galaxy, source of the technology that mastered both space and time, home of the people who call themselves the Time Lords — and the origin of the mysterious, quirky, itinerant time-traveller known as the Doctor.
When the British Broadcasting Corporation transmitted the first episode of Doctor Who in 1963, no one could have predicted that the programme's popularity would ensure its survival for twenty-eight record-breaking years.
In that first story we learnt only that the Doctor and his granddaughter Susan had left their home planet, under something of a cloud, in a remarkable time-travelling craft called the TARDIS that looked — at least on the outside — like a police telephone box.
The Doctor and the TARDIS have remained the constant elements in a television saga that has seen many changes over the decades. As the years passed we learnt more and more about the Doctor's background, about other Time Lords, and about Gallifrey.
John Peel has researched every Doctor Who story ever shown on television to bring together all the facts about Gallifrey and the Time Lords. The result — illustrated throughout with photographs from the BBC archives — is a comprehensive guide to the foundations of the entire Doctor Who Universe, and a fascinating insight into the most comprehensive science fiction mythos that television has ever produced.
Inner dustjacket flaps read as follows:
Illustrated with photographs from the BBC television series, The Gallifrey Chronicles includes among its many chapters:
a study of the planet Gallifrey
a discussion of the physical nature of the Time Lords
biographies of the Doctor and of every other Gallifreyan seen on DOCTOR WHO
The Scrolls of Rassilon, a work of fiction that speculates about the origin of the Time Lords.

The Gallifrey Chronicles is the complete guide to the galaxy's oldest civilisation.
John Peel is a well-known authority on broadcast science fiction. His books include novelizations of the DOCTOR WHO stories The Chase and The Daleks' Masterplan, and Timewyrm: Genesys, the first original novel in the New Adventures series.