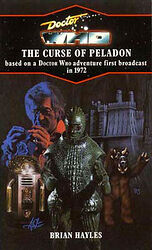 Edition:
UK (4th paperback)
Title:
The Curse of Peladon
Released:
June 1992

Publisher:
Target
ISBN:
0-426-11498-1
Format:
paperback
Owned:
Buy:

| | | |
| --- | --- | --- |
| | | (Unable to fetch price) |
Note: Same ISBN as some reprints of the first & third UK paperback editions.
Cover blurb:
'This is the TARDIS,' snapped the Doctor, 'not a number 88 bus!'
The Doctor and Jo simply meant to take a little test ride in the TARDIS, to check that it was working. There was a small fault in the Interstitial Beam Synthesizer, perhaps, but nothing that couldn't be fixed...
But instead the TARDIS takes them to Peladon, a medieval world which is seeking membership of the Galactic Federation. Delegates have gathered on the planet from all over the galaxy, and among them are representatives from Alpha Centauri, from Arcturus and, from Mars, some of the Doctor's oldest and most dangerous enemies...
This is a novelization by Brian Hayles of his own original television story, which featured Jon Pertwee in the role of the Doctor.