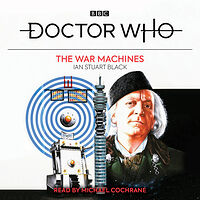 Description: Audio reading of Ian Stuart Black's 1989 novelisation. Not to be confused with the TV audio soundtrack of the same story, released in 2007.
Cover blurb:
Michael Cochrane reads this novelisation of a classic TV adventure featuring the First Doctor
"Attention to detail is the hallmark of this always excellent range"
Doctor Who Magazine
The TARDIS materialises outside the Post Office Tower in London, 1966. The Doctor senses a powerful and evil force, which he and the ever-curious Dodo track down to scientist Professor Brett and WOTAN, his revolutionary new computer.
Designed as a universal problem solver, WOTAN has suddenly begun to think for itself and has formulated a deadly plan. Using its phenomenal power it will programme humans to build mobile fighting computers, and with these indestructible war machines WOTAN will take over the world.
With the help of Dodo, Sir Charles Summers, and new friends Ben and Polly, the Doctor must find a way to prevent a global catastrophe.
Michael Cochrane, who has played several roles in the BBC TV series, reads Ian Stuart Black's novelisation of his original 1966 serial starring William Hartnell as the Doctor.