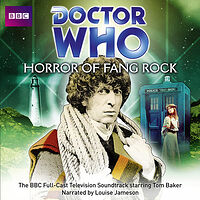 Edition:
UK (CD)
Released:
September 2012

Publisher:
BBC Audio
ISBN:
978-1-4713-0142-1
Format:
2 x CD
Owned:
Buy:
Note: Not to be confused with the novelisation reading of the same story (released in 2017), instead this is the audio soundtrack from the TV episodes, with added narration by Louise Jameson. It was the first new audio soundtrack the BBC had released since The Ambassadors of Death in 2009.
Cover blurb:
Tom Baker stars as the Fourth Doctor in this thrilling TV soundtrack adventure from 1977, with linking narration from Louise Jameson
Fang Rock Lighthouse stands somewhere off the South Coast of England in the early 1900s. Its three keepers have lately noticed a strange fog, and one has seen an eerie light in the water. Soon one of them is dead, and Old Reuben believes that legend is about to become reality...
When Doctor [sic] and Leela arrive, they become involved in a frightening fight for survival. A shipwreck brings four others in search of shelter, but nobody's safety can be guaranteed on Fang Rock that night.
With the lighthouse under attack, one by one the humans are picked off. The Doctor needs all of his initiative and ingenuity if he and Leela are to survive...
Louise Jameson narrates this classic full-cast TV adventure, and in a special bonus interview she recalls her time as Leela in the BBC TV series. Also included are colour PDF files of the original TV camera scripts.