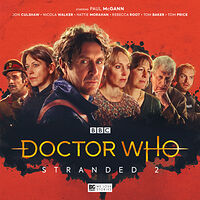 Cover blurb:
The TARDIS is still stranded but the healing process has begun. After living in Baker Street for months, the Doctor, Liv and Helen find their new friends becoming curious about who they really are.
But is it wise to tell them, when their future — and their past — are filled with danger?
And in the shadows, the Curator is watching.

DEAD TIME BY MATT FITTON
UNIT DATING BY ROY GILL
BAKER STREET IRREGULARS BY LISA MCMULLIN
THE LONG WAY ROUND BY JOHN DORNEY