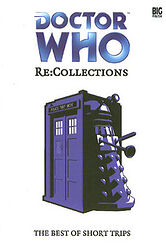 By:
Xanna Eve Chown (ed.)
Rating:
7.4 (5 votes) Vote here
Review:
A Really Excellent Sampler Read more (1 in total)
Released:
May 2009

Publisher:
Big Finish
ISBN:
978-1-84435-419-1
Format:
hardback
Owned:
Buy:

| | | |
| --- | --- | --- |
| | | (Not currently available) |

| | | |
| --- | --- | --- |
| | | (Not currently available) |
Note: This was the 29th and final volume of Short Trips short story anthologies published by Big Finish after they lost the rights to publish Doctor Who short fiction.
This collection contains 28 stories, one from each of the previous 28 volumes.
Cover blurb:
TWENTY-EIGHT OF THE BEST ADVENTURES IN TIME AND SPACE FROM THE SHORT TRIPS RANGE
Since 2002, Short Trips has brought together an exciting mix of well-known Doctor Who authors and new writing talent in a series of short-story anthologies. This compilation celebrates the series with stories picked by each of the Short Trips editors.
With an introduction from every editor, including Nicholas Briggs, Paul Cornell, Jacqueline Rayner and Gary Russell, this is the definitive Short Trips short-story collection!
Featuring stories by Simon Guerrier, Joseph Lidster, Jonathan Morris, Paul Magrs, Eddie Robson and many more!
Inner dustjacket flaps read as follows:
Twenty-eight of the best stories from the Short Trips range, chosen by the editors.
'I WAS A MONSTER!!!' by Joseph Lidster
APOCRYPHA BIPEDIUM by Ian Potter
FACE-PAINTER by Tara Samms
THE GLASS PRINCESS by Justin Richards
RUINS OF HEAVEN by Marc Platt
THE THIEF OF SHERWOOD by Jonathan Morris
THE AGE OF AMBITION by Andy Campbell
THE DEAD MAN'S STORY by Andy Frankham-Allen
FLASHPOINT by Matt Grady
THINKING WARRIOR by Huw Wilkins
ALL OUR CHRISTMASSES by Steve Lyons
SUITORS, INC by Paul Magrs
HOW YOU GET THERE by Simon Guerrier
VENUS by Stuart Manning
THE LAMPBLACK WARS by Matthew Sweet
LIFE AFTER QUETH by Matt Kimpton
CHECKPOINT by Stel Pavlou
THE AVANT GUARDIAN by Eddie Robson
MUSEUM PEACE by James Swallow
MIDNIGHT IN THE CAFÉ OF THE BLACK MADONNA by Sean Williams
THE GLARN STRATEGY by Brian Dooley
DEAR GREAT UNCLE PETER by Neil Corry
LOSING THE AUDIENCE by Mat Coward
THE SPINDLE OF NECESSITY by Allyn Gibson
LONELY by Richard Wright
LARES DOMESTICI by Anna Bratton
LOST AND FOUNDED by Andrew Pidoux
THE FALL OF THE DRUIDS by David N Smith

Chosen by:
David Bailey, John Binns, Nicholas Briggs, Xanna Eve Chown, Paul Cornell, Neil Corry, Keith R A DeCandido, Ian Farrington, Simon Guerrier, Joseph Lidster, Jacqueline Rayner, Gary Russell, Richard Salter, Steven Savile, Cavan Scott and Mark Wright.
The rear dustjacket flap contains character summaries of Doctors 1-8:
A mischevious old wizard, the First Doctor is not above sabotaging his own TARDIS or endangering his friends to get what he wants. He sometimes travels with his granddaughter, Susan
An impish vagabond in time, the Second Doctor is a playful and enthusiastic character, but with a sometimes melancholic side. Enemies underestimate his resolve and determination
The Third Doctor is a dashing, imperious chap, an expert in Venusian aikido and friend to all the famous and infamous figures in time. He was exiled to Earth for a while by his own race
Instantly recognisable in his enormous scarf and long coat, the tall, booming-voiced Fourth Doctor is a strange and alien eccentric, and is completely unpredictable
Dressed in his beloved cricketing gear, the Fifth Doctor — an old man in a youngster's body — is a good, compassionate figure struggling in a universe of horrors
The bombastic and larger-than-life Sixth Doctor, usually dressed in an outlandishly multicoloured coat, can be fiercely perceptive, with a keen and sometimes ruthless moral purpose
Once upbeat and effervescent, the wily and elusive Seventh Doctor now often lets his companions take the foreground, while he lingers in the shadows to catch his enemies off-guard
Bursting with enthusiasm and joie de vivre, the Eighth Doctor lives in the moment... which can often be his weakness. He has travelled with several different companions, but often travels alone.