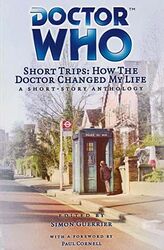 By:
Simon Guerrier (ed.)
Rating:
8.3 (9 votes) Vote here
Review:
Biased, but a Joy Read more (1 in total)
Released:
September 2008

Publisher:
Big Finish
ISBN:
978-1-84435-341-5
Format:
hardback
Owned:
Buy:
Cover blurb:
The schoolboy whose twin brother vanished in the night. A woman whose house teems with alien refugees. The dad who dies every evening...
All through space and time live people, ordinary people, whose lives have been turned upside down.
People who've lost jobs and loved ones, or seen their homes destroyed, or found themselves on whole other planets. They've nothing in common with one another except that their lives can never be the same. Because they're people who've met the Doctor.
Featuring 25 original stories from 25 brand-new authors — the winners of a competition to seek out bold new writing talent!
Contents:
Change Management by Simon Moore
Curiosity by Mike Amberry
Potential by Stephen Dunn
Second Chances by Bernard O'Toole
Child's Play by LM Myles
Relativity by Michael Montoure
Outstanding Balance by Tim Lambert
The Last Thing You Ever See by Richard Goff
The Shopping Trolleys of Doom by Caleb Woodbridge
The Final Star by Chris Wing
The Man on the Phone by Mark Smith
The Monster in the Wardrobe by James C McFetridge
Suns and Mothers by Einar Olgeirsson
Taking the Cure by Matthew James
Those Left Behind by Violet Addison
Evitability by Andrew K Purvis
£436 by Nick May
Time Shear by Steven Alexander
Running on Empty by JR Loflin
Swamp of Horrors (1957) - Viewing Notes by Michael Rees
Insider Dealing by Dann Chinn
The Andrew Invasion by John Callaghan
Stolen Days by Arnold T Blumberg
Lares Domestici by Anna Bratton