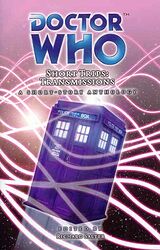 Cover blurb:
SEVENTEEN BRAND-NEW ADVENTURES IN TIME AND SPACE!
If you lost the ability to communicate, what would your life be like? Messages, and the media we use to convey them, surround us every minute of every day. Some are meant for us alone, while others are intended to reach the widest possible audience. Some transmissions are intercepted by unintended recipients and never reach their destination. Others get corrupted along the way.
The Doctor knows how important it is to be understood. Whether he is striving to cure a disease that turns words into gibberish, responding to an SOS from the end of time, or unravelling secret messages encoded into the genetic sequences that make up life itself, this is one Time Lord who always knows how to make himself heard.
Listen up. Get the message. Keep this frequency clear.
Featuring stories by Lou Anders, George Mann, Dan Abnett, Andy Lane, Steve Lyons and many more!
Contents:
Doctor Who and the Adaptation of Death by Graeme Burk
Policy to Invade by Ian Mond
Only Connect by Andy Lane
Gudok by Mags L. Halliday
Generation Gap by Lou Anders
Lonely by Richard Wright
Blue Road Dance by James Milton
Tweaker by Dan Abnett
Link by Pete Kempshall
Driftwood by Dale Smith
Methuselah by George Mann
Nettles by Kelly Hale
Larkspur by Mark Stevens
See No Evil by Steve Lyons
iNtRUsioNs by Dave Hoskin
Breadcrumbs by James Moran
Transmission Ends by Richard Salter