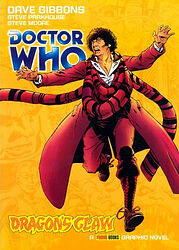 Description: Compilation of classic 1980-1981 Fourth Doctor comic strips from early issues of Doctor Who Monthly.
Cover blurb:
COLLECTED COMIC STRIPS FROM THE PAGES OF DOCTOR WHO MONTHLY
The time-travelling Doctor is back in his second collection of classic comic-strips!
Join the heroic Time Lord in eleven more wild and witty sci-fi stories: DRAGON'S CLAW, THE COLLECTOR, DREAMERS OF DEATH, THE LIFE BRINGER, WAR OF THE WORDS, SPIDER-GOD, THE DEAL, END OF THE LINE, THE FREE-FALL WARRIORS, JUNK-YARD DEMON and THE NEUTRON KNIGHTS!
In these fast-paced adventures through time and space, our hero must contend with old enemies — the emotionless Cybermen and the warlike Sontarans — as well as an amazing array of new intergalactic foes — including the ancient Gods of Olympus, a cannibal street gang, mythical warriors from another dimension and a race of psychic vampires — with only his loyal companion Sharon, his robot dog K9 and his trusty TARDIS to aid him in his battle to save the universe!
Featuring artwork from the award-winning DAVE GIBBONS, and scripts from 2000 AD's STEVE MOORE and STEVE PARKHOUSE — plus a bonus strip from MIKE McMAHON — these classic comics have been digitally restored for the twenty-first century and are reprinted for the very first time in their original format!
A MUST-HAVE COLLECTION FOR FANS OF DOCTOR WHO AND CLASSIC BRITISH COMICS ALIKE!