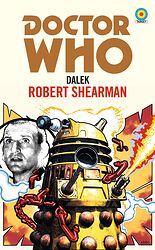 Note: Novelisation of the 2005 Doctor Who TV episode of the same name. Also available as an audio reading.
The opening chapter of this novelisation, along with the other 6 new Target novelisations published in 2021, were included in Doctor Who and the Library of Time, a paperback book given away for free with Doctor Who Magazine issue 561 in February 2021. (Not listed here as I don't list "freebies" — items must be available for purchase by themselves to qualify for listing on this website.)
Cover blurb:
'The entire Dalek race, wiped out in one second. I watched it happen. I made it happen!'

The Doctor and Rose arrive in an underground vault in Utah in the near future. The vault is filled with alien artefacts. Its billionaire owner, Henry van Statten, even has possession of a living alien creature, a mechanical monster in chains that he has named a Metaltron.
Seeking to help the Metaltron, the Doctor is appalled to find it is in fact a Dalek — one that has survived the horrors of the Time War just as he has. And as the Dalek breaks loose, the Doctor is brought back to the brutality and desperation of his darkest hours spent fighting the creatures of Skaro... this time with the Earth as their battlefield.
This novel is based on a Doctor Who story which was originally broadcast on 30 April 2005.
Featuring the Ninth Doctor as played by Christopher Eccleston with his companion Rose Tyler.