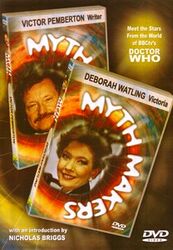 Note: DVD re-release of two interviews that were originally released separately on VHS: Myth Makers: Deborah Watling and Myth Makers: Victor Pemberton. The Deborah Watling interview was later re-released as part of The Doctors: The Pat Troughton Years.
Cover blurb:
DOUBLE THE VALUE!
DEBORAH WATLING — Victoria Waterfield
"Derek! He can't say, 'Up your passage Miss Waterfield.' It's rude!"
DEBORAH WATLING portrayed VICTORIA WATERFIELD during PATRICK TROUGHTON's tenure as DOCTOR WHO and she became one of the most popular of the Doctor's companions.
This MYTH MAKERS features material shot at MONSTERCON in Liverpool in 1986, together with an interview recorded on location during the shooting of DOWNTIME, the DOCTOR WHO spin-off drama, in which DEBORAH re-created the part of VICTORIA after more than twenty-five years!
DEBORAH and her late father JACK WATLING (Professor Travers) chat to NICHOLAS BRIGGS about working together again and we feature unique behind-the-scenes material from DOWNTIME. And, of course, there's the odd Yeti around!
VICTOR PEMBERTON — Script Writer/Producer
"The last ten years of the show didn't work for me at all. I just felt it became a party for people working on it."
VICTOR PEMBERTON's association with DOCTOR WHO is long and varied. As extra, writer, script editor, producer and novelist, he is in a unique position to comment on the programme's successes and failures — and he's prepared to do just that!
In this MYTH MAKERS, VICTOR encounters a strangely bewildered NICHOLAS BRIGGS and the even stranger source of a "plopping" noise. In fact, this is the culmination of the ultimate kitchen sink drama — just what is outside the window?
SPECIAL FEATURES
Introduction by NICHOLAS BRIGGS and KEITH BARNFATHER.
Biography of both featured artists.