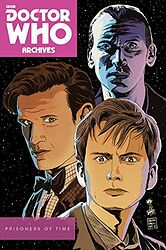 Edition:
UK (paperback)
Title:
Doctor Who Archives: Prisoners of Time
Released:
February 2016

Publisher:
Titan Comics
ISBN:
978-1-78276-774-9
Format:
paperback
Owned:
Buy:
Cover blurb:
"SOMETIMES HE IS A SOLDIER. SOMETIMES HE IS A MADMAN. SOMETIMES HE IS THE ONCOMING STORM. HE IS ALL OF THESE THINGS."

AN EPIC 50TH ANNIVERSARY ADVENTURE FEATURING ELEVEN INCARNATIONS OF THE DOCTOR!
Don't miss this astounding journey, featuring the First through Eleventh Doctors in a universe- and history- spanning battle against an unseen (and unimaginable!) enemy!
When a mysterious figure from the Doctor's past abducts his companions and freezes them outside of time, only a combination of ALL of the Doctor's past incarnations will be able to rescue them and safeguard the future!
COLLECTS THE COMPLETE DOCTOR WHO: PRISONERS OF TIME.