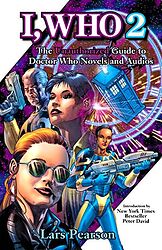 By:
Lars Pearson
Rating:
7.3 (33 votes) Vote here
Review:
Not enough style! Read more (2 in total)
Released:
February 2002

Publisher:
Mad Norwegian Press
ISBN:
1-57032-900-1
Format:
paperback
Owned:
Buy:
Cover blurb:
The Unauthorized Guide to Doctor Who Novels & Audios
Earth, the 20th century. A Time Lord known as the Doctor, lacking an identity, past or agenda — but still the most dangerous man in the Universe — makes our innocent blue-green planet his home through the World War years and more.
Dellah, the late 26th century. Bernice Summerfield, self-accredited academic, professional lush, agent of God and razor-honed sarcastic, holds the potential to stop Universal armageddon — if she lives.
Through all the triumphs, all the tragedies, every drop of furor-driven love, unrequited emotion and loss, I, Who 2 documents the "Doctor Who" original novels after the Earth-shaking Interference, the whole of the Benny books, the Big Finish audio line and more. It's a literary and audio tapestry so vast, it takes 170,000 words and a myriad of locations in time and space to tell this story.
The Doctor would approve.
Includes:
Exclusive Introduction by Star Trek novelist Peter David
Cover by Bryan Hitch (The Ultimates & The Authority)
Includes missing chapter from the Doctor Who novel The Sands of Time
Indexes all eighth Doctor novels from The Blue Angel to Escape Velocity plus all past Doctor novels from Sept. 1999 (City at World's End) to Feb. 2001 (Bunker Soldiers)
Indexes all Big Finish audios through Minuet in Hell
Covers the entire Bernice Summerfield book & audio line
Includes write-ups on apocryphal works such as Campaign and The Masters of Luxor
Novelist round table with acclaimed Who authors Justin Richards, Andy Lane, Kate Orman, Lawrence Miles, Jonathan Morris and more!