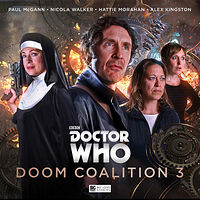 Cover blurb:
ABSENT FRIENDS by JOHN DORNEY
The Doctor and his companions find themselves in the middle of a mystery. Sometimes the past comes back to haunt you. And sometimes the future does as well.
THE EIGHTH PIECE by MATT FITTON
England, 1538: Lord Thomas Cromwell finds his duties interrupted by otherworldly forces — clockwork soldiers, an unusual nun, and a mysterious scholar calling himself 'The Doctor'.
THE DOOMSDAY CHRONOMETER by MATT FITTON
Trapped and alone, Liv stares death in the face as she meets the enemy who's been dogging the TARDIS travellers' footsteps throughout Earth's history.
THE CRUCIBLE OF SOULS by JOHN DORNEY
With the TARDIS crew separated and in terrible trouble, will today be the day the bad guys win? Spoilers...