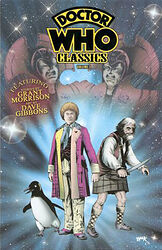 Note: Later reprinted as part of Doctor Who Classics Omnibus.
Cover blurb:
Industry legend Grant Morrison (Final Crisis) penned a number of Doctor Who strips in the late '80s featuring the Sixth and Seventh Doctors, and this book collects them all. The black-and-white art of Bryan Hitch and John Ridgway has been colored for the first time by Charlie Kirchoff. Included here are "Changes", "Culture Shock!" and "The World Shapers".
Also collected here are the first three issues of the second series of Doctor Who Classics, which presents newly colored stories drawn by Dave Gibbons (Watchmen). Joining Gibbons are Steve Moore for "The Life Bringer", "War of the Words" and "Spider-God", and Steve Parkhouse for "The Deal", "End of the Line" and "The Free-Fall Warriors", all featuring the Fourth Doctor.