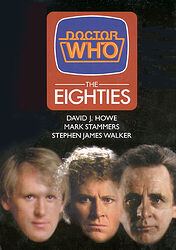 Edition:
UK (hardback)
Released:
October 1996

Publisher:
Virgin
ISBN:
1-85227-680-0
Format:
hardback
Owned:
Buy:
Cover blurb:
The nineteen-seventies saw the national institution Doctor Who grow up, with adults outnumbering children in the continuously climbing audience figures. Advances in technology had produced more believable monsters and more spectacular special effects to complement an actor who had made the role of the Doctor his own.
But Tom Baker was leaving the show and a new direction was needed for a demanding new decade. Changes in the backroom staff meant a completely new production team was in place. The series was to undergo its most radical change since the switch from black-and-white to colour.
To accompany the new Doctor there would be a new title sequence, revamped theme music and a new Producer, John Nathan-Turner, who would lead the team until the show's temporary demise in 1989.
The Eighties is the definitive record of the third decade of Doctor Who. Peter Davison soon won acceptance for his sensitive portrayal and the new maturity of the series' storylines. Colin Baker's moody and unpredictable interpretation reflected uncertanties about the series' future, ending in recriminations. And Sylvester McCoy brought the mystery back to a character still struggling in the face of falling ratings.
The Eighties is a meticulous record of Doctor Who's most contentious decade, and is illustrated throughout with an unrivalled collection of colour photographs, most of which have never been published before.