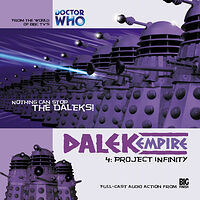 Cover blurb:
Astounding stories of the outer-space robot people created by Terry Nation
"Exterminate! Exterminate!" Doctor Who's deadliest foes, the dreaded Daleks, destroy all who stand against them in their own thrilling series of audio adventures!
The Daleks had achieved total conquest of our galaxy...
until the slaves of their new empire rebelled.
Caught off-guard, the Daleks are now in retreat. Defeated. Or so it would seem...
But where are the Dalek Emperor and the Dalek Supreme?
From beyond the fringes of the galaxy, a new and deadlier threat is preparing to strike...