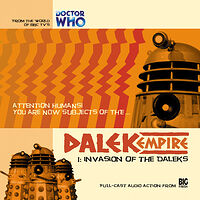 Cover blurb:
The largest Dalek fleet ever assembled begins its invasion of the galaxy, heading straight for the Vega System.
On planet Vega VI, Suz and Alby take their first, delicate steps towards romance, whiling away a lazy afternoon on the Marsh Lakes. But the Dalek onslaught is already under way.
Who is the mysterious stranger Suz finds amongst the devastated remains of Vega VI? What is Alby's secret? Can the Daleks' relentless advance across the galaxy ever be stopped?