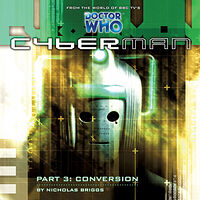 Note: Subsequently re-released in the box set Cyberman: The Complete Series 1 and 2.
Cover blurb:
The Cybermen — one of the most terrifying monsters to emerge from Doctor Who.
Fear is Humanity's greatest enemy. The Cybermen can free us from it.
The Cybermen... The great civilisation we could have been... If we'd taken another path. A purer path. The Scorpius strategy is now in full operation. There will be victory in Orion.
THERE IS NOTHING TO FEAR...