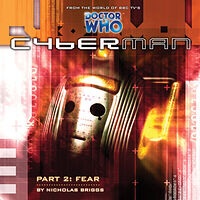 Note: Subsequently re-released in the box set Cyberman: The Complete Series 1 and 2.
Cover blurb:
The Cybermen — one of the most terrifying monsters to emerge from Doctor Who.
There is a conspiracy at the heart of Earth's government.
The Orion War situation is worsening by the day. The human race is sleepwalking towards extinction. Now, the time is right for the next phase of the Cyber plan to begin.
THERE IS NOTHING TO FEAR...