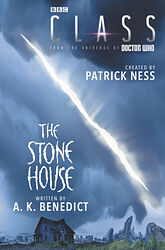 Edition:
US (hardback)
Released:
March 2017

Publisher:
HarperTeen
ISBN:
978-0-06-266617-8
Format:
hardback
Owned:
Buy:

New:

£14.55

£13.67 Save 6%
Used:
£16.73
Cover blurb:
Rumours cling to this house like ivy, but what's inside is FAR WORSE.
Its halls are stalked by NIGHTMARES, its nightmares stalked by whatever is keeping me here.
If you see me at the window, SEND HELP.
We don't have much time.
The stone house is alive and growing MORE POWERFUL.
Whatever you do, STAY AWAY.
IT'LL NEVER LET YOU GO.
The inner dustjacket flaps read as follows:
DON'T GO NEAR THE HOUSE, WHATEVER YOU DO. IT WANTS THE LONELY, THE LOST, THE VULNERABLE. IT WANTS YOU.
Tanya keeps having bad dreams about the old stone house around the corner from Coal Hill School — and a girl trapped there, screaming and terrified. When Tanya and her friends go to investigate the strange house covered in cobwebs, they stumble onto their own worst nightmares come to life. But there is a presence haunting the house that is even more powerful than their individual horrors. A presence that may not want to let them go...
In spite of the danger, Tanya is determined to free the mysterious girl in the house. But they are running out of time — the house is scheduled for demolition. With the help of their teacher Miss Quill, Tanya and three other kids prepare to fight their nightmares, and whatever other monsters they hear scuttling around in the walls. But how can they fight against monsters that are supposed to exist only in their dreams?
PATRICK NESS is the creator of the BBC television series Class and the author of nine novels and a short story collection. He's best known for his books for young adults, including his New York Times bestselling novel The Rest of Us Just Live Here, the acclaimed Chaos Walking trilogy, More Than This, and the Carnegie Medal-winning A Monster Calls. A Monster Calls was released as a major motion picture — with the screenplay by Patrick himself — starring Liam Neeson and Sigourney Weaver. Born in Virginia, Patrick lives in London.
A. K. BENEDICT writes crime and speculative fiction in a room filled with clowns, mannequins and Doctor Who action figures. Her first novel, The Beauty of Murder, was nominated for an eDunnit award and is in development as a major eight-part television series by Company Pictures. Her second novel was Jonathan Dark or The Evidence of Ghosts. She's written Torchwood audio dramas for Big Finish, and her short stories have been featured in anthologies, including Great British Horror and The Best British Short Stories. She lives in St Leonards-on-Sea, England, with her dog, Dame Margaret Rutherford.