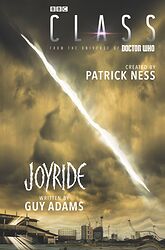 Edition:
US (hardback)
Released:
October 2017

Publisher:
HarperTeen
ISBN:
978-0-06-266620-8
Format:
hardback
Owned:
Buy:

| | | |
| --- | --- | --- |
| | | (Unable to fetch price) |
Cover blurb:
'You're paying all this money to have the most AMAZING experience you can dream of. You're paying all this money for something INCREDIBLE. For an experience UNLIKE ANYTHING ELSE. And you know what else?'
'What?'
'After tonight you'll be BEGGING me to take your money all over again. You won't be able to wait. So, you're ready?'
'Course I am!'
'Then lie back, relax, and be ready for the TIME OF YOUR LIFE.'
Inner dustjacket flaps read as follows:
YOUNG PEOPLE ACROSS THE CITY ARE ACTING CRAZY. BUT THEY AREN'T THE ONES IN CONTROL...
Poppy is a quiet girl, right up until she steals a car and drives it through a shop window.
Max is a nice guy, but then he kills his whole family. Just for fun.
Amar always seems so happy, so why is he trying to jump to his death from the school roof?
No one can figure out why teenagers are behaving so strangely — and dangerously. Stories of impossible-seeming car accidents, random attacks, even cold-blooded murder make Miss Quill's class sit up and take notice. Kids are going beserk, and some of them are dying.
Then Ram wakes up in a body he doesn't recognise, and if he doesn't figure out why, he may well be next.
PATRICK NESS is the creator of the BBC television series Class and the author of ten novels and a short story collection. He's best known for his books for young adults, including his New York Times bestselling novel The Rest of Us Just Live Here, the acclaimed Chaos Walking trilogy, More Than This, and the Carnegie Medal-winning A Monster Calls. A Monster Calls was released as a major motion picture — with the screenplay by Patrick himself — starring Liam Neeson and Sigourney Weaver. Born in Virginia, Patrick lives in London.
GUY ADAMS lives in Spain, surrounded by rescue animals. Some of them are his family. He isn't a spy, but naturally he's always dreamed of being one. Having spent over ten years working as a professional actor and comedian, eventually he decided he'd quite like to eat regularly, so he switched careers and became a full-time writer. Nobody said he was clever. Against all odds he has managed to stay busy, and since then he has written more than twenty books.