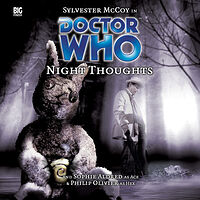 Cover blurb:
'I warn you, things could get very nasty here before they get better.'
A remote Scottish mansion. Five bickering academics are haunted by ghosts from their past. Reluctantly they offer shelter to the Doctor and his companions Ace and Hex.
Hex, already troubled by a vivid nightmare, is further disturbed by the nighttime appearance of a whistling, hooded apparition.
Ace tries to befriend the young housemaid, Sue. Sue knows secrets. She knows why the academics have assembled here, and she knows why they are all so afraid. But Sue's lips are sealed, preferring to communicate through her disturbing toy, Happy the Rabbit.
And then the killing begins. Gruesome deaths that lead the Doctor and his friends to discover the grisly truth behind the academics' plans, and ­ as the ghosts of the past become ghosts of the present ­ to recognise that sometimes death can be preferable to life.
This story takes place after "Survival".