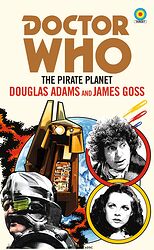 Edition:
UK (abridged paperback)
Released:
March 2021

Publisher:
BBC Books
ISBN:
978-1-78594-530-4
Format:
paperback
Owned:
Buy:
Note: Target-style abridged version, published as part of the new Target novelisations range.
The opening chapter of this novelisation, along with the other 6 new Target novelisations published in 2021, were included in Doctor Who and the Library of Time, a paperback book given away for free with Doctor Who Magazine issue 561 in February 2021. (Not listed here as I don't list "freebies" — items must be available for purchase by themselves to qualify for listing on this website.)
Cover blurb:
'We Have All Systems Go for the Dawn of a New Golden Age of Prosperity!'

The hugely powerful Key to Time has been split into six segments, all of which have been disguised and hidden throughout time and space. Now the even more powerful White Guardian wants the Doctor to find the pieces. With the first segment successfully retrieved, the Doctor, Romana and K-9 trace the second segment of the Key to the planet Calufrax. But when they arrive at exactly the right point in space, they find themselves on exactly the wrong planet — Zanak.
Ruled by the mysterious 'Captain', Zanak is a happy and prosperous planet. Mostly. If the mines run out of valuable minerals and gems then the Captain merely announces a New Golden Age and they fill up again. It's an economic miracle — so obviously something's very wrong...
This novel is based on a Doctor Who story which was originally broadcast from 30 September - 21 October 1978.
Featuring the Fourth Doctor as played by Tom Baker and his companion Romana.