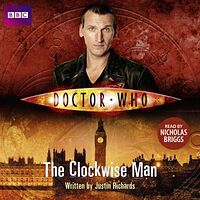 Note: Subsequently re-released as part of the Ninth Doctor Novels box set. Audio reading of the new series novel. This is a limited-release "library edition", published by Chivers Audiobooks, a subsidiary of AudioGO/BBC Audio — the differences between this and the usual BBC Audio releases are threefold: 1) The availability is much more limited, being made available for purchase only via the AudioGO Web site; 2) The discs are burned onto CD-Rs rather than being "regular" pressed CDs; 3) The discs come packaged in an oversized library "wallet"-style case, rather than the usual CD jewel box. This reflects the fact that the primary audience for these library editions are public libraries (however since they are technically available for purchase by the general public via AudioGO, hence why they qualify for inclusion on this site).
Cover blurb:
In 1920s London the Doctor and Rose find themselves caught up in the hunt for a mysterious murderer. But not everyone or everything is what it seems.
Secrets lie behind locked doors and inhuman killers roam the streets. Who is the Painted Lady and why is she so interested in the Doctor? How can a cat return from the dead? Can anyone be trusted to tell or even to know the truth?
With the faceless killers closing in, the Doctor and Rose must solve the mystery of the Clockwise Man before London itself is destroyed...

READ BY NICHOLAS BRIGGS
Nicholas Briggs is an actor, writer, director, sound designer, composer and producer who is probably best known as the voice of the Daleks in Doctor Who. Other acting roles include Count Dracula, Sherlock Holmes and Winston Churchill in Doctor Who Live.