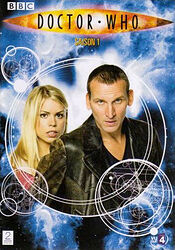 Edition:
France (1st DVD)
Title:
Saison 1
Released:
March 2006

Publisher:
BBC Video
Format:
4 x DVD
Owned:
Buy:

New:
53,30 €
Used:
19,90 €
Cover blurb:
Doctor Who est en apparence un homme dynamique, courageux et drôle. Un homme tout à fait ordinaire, à ce détail près qu'il parcourt l'espace et le temps à bord de son vaisseau, le TARDIS, réglant toutes sortes de problèmes, combattant des monstres tous plus hideux et machiavéliques les uns que les autres, et sauvant au passage la Terre à plusieurs reprises.
C'est cet énigmatique Docteur, seul rescapé de la destruction de la planète Gallifrey, dernier Seigneur du Temps, que Rose, vendeuse de lingerie fine dans un grand magasin londonien, décide de suivre dans ses missions périlleuses. Après une brève hésitation, elle accepte de partir avec le Docteur pour de nouvelles aventures, toujours aussi surprenantes, qui se déroulent hier, aujourd'hui, demain, ici, là-bas, ailleurs... Quelque part dans l'univers...
"Doctor Who" est un véritable institution en Grande-Bretagne, à l'image de la série "Le Prisonnier" ou encore de "Chapeau melon et bottes de cuir". Créé en 1963 par Sydney Newman, "Doctor Who" est la série de science-fiction la plus longue de l'histoire de la télévision britannique avec plus de six cents épisodes et deux films de cinéma.
Rough English translation as follows. Note: in French, the title of "The Avengers" is literally translated to "Bowler Hat & Leather Boots"!
Doctor Who is seemingly a dynamic man, courageous and funny. A quite ordinary man, except that he travels space and time aboard his vessel, the TARDIS, solving all sorts of problems, fighting monsters each more hideous and Machiavellian than the last, and in the process saving the Earth multiple times.
This is the enigmatic Doctor, the only survivor of the destruction of planet Gallifrey, the last Lord of Time, while Rose, selling lingerie in a London department store, decides to follow in his dangerous missions. After a brief hesitation, she agrees to go with the Doctor for new adventures, always surprising, which take place yesterday, today, tomorrow, here, there, elsewhere... Anywhere in the universe...
"Doctor Who" is a veritable institution in Great Britain, similar to "The Prisoner" or "The Avengers". Created in 1963 by Sydney Newman, "Doctor Who" is the longest sci-fi series in the history of British television with over six hundred episodes and two movies.