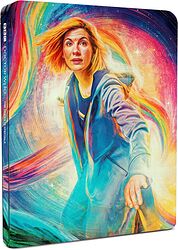 Description: Steelbook Blu-ray box set containing the three special Doctor Who episodes broadcast in 2022: Eve of the Daleks, Legend of the Sea Devils and The Power of the Doctor.
Cover blurb:
No cover information available yet.
Help wanted! Do you own this item? Please help make this site more complete by emailing me details of the back cover blurb. Thanks!