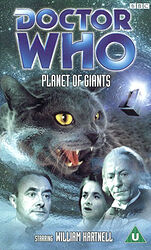 Edition:
UK (VHS)
Released:
January 2002

Publisher:
BBC Video
Format:
1 x VHS PAL
Owned:
Buy:
Cover blurb:
Whilst trying to return Ian and Barbara to the twentieth century, the Doctor attempts an unorthodox new technique, causing the TARDIS doors to open in mid-flight, setting alarms ringing inside the craft.
Arriving on Earth, the time-travellers discover that they have all been reduced in size — they are now minute people in a world of giant objects. The TARDIS has landed them between the cracks in a garden patio — a garden teeming with giant worms, ants and cats. All deadly hazards for the miniature travellers.
To make matters worse, the TARDIS crew are caught up in the trials of a deadly new insecticide — DN6. A chemical so deadly that all insect life is threatened — a chemical that is also lethal to minuscule time-travellers...
This story was originally broadcast on BBC1 between 31st October - 14th November 1964.