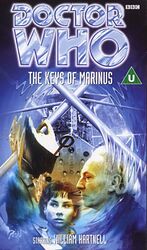 Edition:
UK (VHS)
Released:
March 1999

Publisher:
BBC Video
Format:
2 x VHS PAL
Owned:
Buy:
Cover blurb:
Materialising on an island of glass in a sea of acid, the Doctor, Susan, Ian and Barbara find themselves chosen to embark on a perilous quest set by Arbitan, Keeper of the Conscience of the planet Marinus.
The Conscience machine has the power to control the minds of everyone on Marinus, and it is in danger of falling into the hands of the sinister Yartek, leader of the alien Voord. To prevent disaster, the TARDIS crew must recover the machine's operating keys, hidden in various locations around the planet. Others have attempted this task before — but none have ever returned.
From Morphoton to Millennius, battling ice soldiers and deadly plants, overcoming hypnotic conditioning and hostile witnesses, this trek across Marinus promises to be the four travellers' most challenging adventure yet.
This early epic by Dalek creator Terry Nation was only the fifth Doctor Who story to be made. It was originally transmitted 11 April - 16 May 1964.
The quality of the material reflects the age of the original broadcast.