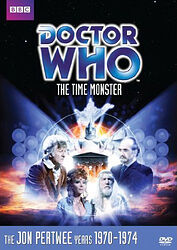 Note: Only released separately in the US. In the UK & Australia, this story was released as part of the Myths and Legends box set instead.
Cover blurb:
The Master is back! Assuming the alias of Professor Thascales at the Newton Research Unit at Cambridge University, he harbors his latest deadly plot to seize control of time itself. Can the Doctor and Jo thwart his terrible plan?
What secrets does the mysterious trident-shaped crystal hold? Why is the ancient city of Atlantis central to the Master's plan? And what mythical terror lies at the heart of the Maze? With time literally against them, the odds might just be too great for the time travelers.
DVD EXTRAS INCLUDE:
Audio Commentary by actors John Levene (Sergeant Benton) and Susan Penhaligon (Lakis), producer Barry Letts, production assistant Marion McDougall, television writers Graham Duff, Phil Ford, Joe Lidster and James Moran, moderated by Toby Hadoke
Between Now... and Now! Professor Jim Al Khalili looks at the science behind "The Time Monster," featuring Katy Manning (Jo Grant) and Richard Franklin (Mike Yates) (24 mins)
Restoration comparison (3 mins)
Photo gallery (8 mins)
Production Note Option
PDF materials (DVD-Rom — PC/Mac): Radio Times Listings
Digitally remastered picture and sound quality
Originally transmitted May 20 - June 24, 1972