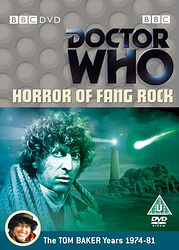 Edition:
UK (DVD)
Released:
January 2005

Publisher:
BBC Video
Format:
1 x DVD
Owned:
Buy:
Cover blurb:
A mysterious light in the sky, an unnatural glow in the ocean and a thick fog bring terror to the lighthouse keepers of Fang Rock. When the Doctor and Leela arrive, the first death has already cast doubt on the safety of the lighthouse. But the Doctor discovers something more terrifying and evil than even he could have imagined.
Special Features
Commentary by Louise Jameson (Leela), John Abbott (Vince) and Terrance Dicks (Writer)
Terrance Dicks: Fact & Fiction With a writing career spanning 6 decades, this special documentary looks at Terrance Dicks' work for books and television, with contributions from many of his friends and colleagues
Paddy Russell: A Life in Television In this specially shot interview, Paddy looks back over her forty year career in television as an actress, stage manager and director
The Antique Doctor Who Show This short film from 1993 gives an insightful look into the merchandising of Doctor Who
Photo Gallery
Production Subtitles
Digitally remastered picture and sound quality
This story was originally broadcast on BBC1 between 3rd - 24th September 1977.