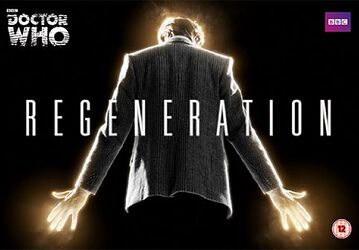 Edition:
UK (DVD)
Released:
June 2013

Publisher:
BBC Video
Format:
6 x DVD, 1 x hardback
Owned:
Buy:
Note: Numbered limited edition of 10,000.
Cover blurb:
Individually numbered, boasting 6 x DVDs telling the story of the Doctor's regenerations. Includes the beautifully restored story 'The Tenth Planet', featuring the Doctor's first regeneration on DVD for the first time.
DISC 01
THE TENTH PLANET Episodes 01—03 / Episode 04 Reanimation
THE WAR GAMES Episodes 01—05
DISC 02
THE WAR GAMES Episodes 06—10
DISC 03
PLANET OF THE SPIDERS
DISC 04
LOGOPOLIS
THE CAVES OF ANDROZANI
DISC 05
TIME AND THE RANI
DOCTOR WHO — THE MOVIE
DISC 06
BAD WOLF / THE PARTING OF THE WAYS
THE END OF TIME: PARTS ONE & TWO